Do you have the same troubles?
01. The floor drain is blocked, the floor area is watery, smelly and easy to slip
02. The falling hair causes the drain to be blocked and the drainage is not good
03. Clogged sewage, cleaning up the bathroom and kitchen is tricky
Keep shower, tub, and sink drain free of clogs, no need to clean the sink filter.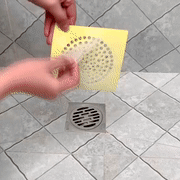 The mesh-like holes around the body filter out debris and disperse the water flow into the water
Dense grid: does not affect effective drainage when blocked.
Throw away when used up: it does not affect effective drainage when blocked.

Strong adhesive backing: don't worry about being washed away or floating by water.
Main Features
Family standing
These shower drain stickers can effectively prevent the hair, paper, food residue, fabric, and other foreign objects from into the drainage pipe.Easy to Use
Convenient to remove and replace. Durable Non-woven fabric material.
Anti-slip
This disposable sink strainer has a sticker behind which can be attached to the sewer entrance.Widely Used Occasions
Suitable for bathroom, laundry, bathtub, kitchen, and so on.Using Methods
Be sure to wipe the surface dry before use, no moisture remains
1. Wipe dry water to avoid water stains
2. Tear off the adhesive
3. Stick on the floor drain evenly
4. Collect enough hair and remove it and discard it
Usage Scenarios
Strong applicability: multi-purpose design, use more flexible.
Applicable places: Kitchen sink, sink, bathroom floor drain, bathtub.
Specifications
Summary: Non-woven fabric, with soft texture, adhesive design, firm
adhesion, easy to filter hair and residue,
and prevent pipeline blockage
Package Included:
10 filter stickers
Due to manual measurements, please allow slight measurement
deviations. Due to the different display and lighting effects, the actual
color of the item may be slightly different from the color displayed on the
picture.