Wonderful Worker!
Be able to sand and demonstrate work on old fireplace tiles and prepare them for new ones.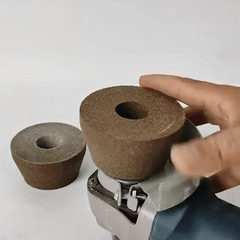 Features:
Durable Material:The grinding wheel contains emery with strong stability, high explosion-proof and strong durability.
Easy To Use:The copper wire is used for the grinding wheel dedicated to the 100-inch angle grinder, and the angle grinder can be installed directly, which is convenient to use.
Sand Faster:Because of its large emery particles, it has good grinding and polishing effect on stone and fast speed. The type 11 shape of the disc allows maximum surface grinding range.
Widely Application:These grinding wheels can effectively smooth and finish surfaces or contours. It is suitable for grinding stones, and also suitable for grinding worn tools such as axe blades and knife edges.
Specifications:
Material:Emery,Silicon carbide
Size:50#,100#
Flat
Curved
Installation Notes:
It needs to be installed with the lower splint of the original machine, and the splint is turned to 16mm surface.
After installation, it needs to be idling and checked for stability before operation.
Grinding wheels are consumable materials and cannot be returned after use.
Package includes: