Does your cloth shed easily, dry too slowly, and become moldy?
You need to try these Household Cleaning Duster Gloves☟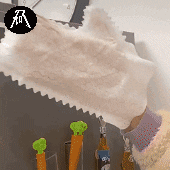 Main Features:
Powerful Cleaning
The rhomboid surface design increase friction, it can also capture fine dust to achieve powerful decontamination and strong water absorption. Wet dry use, the surface is smooth, not easy to breed bacteria.
Soft material
Made of bamboo fiber and non-woven fabric, soft, non-shedding, will not scratch the surface of the cabinet while cleaning. No black smoke while burning, eco-friendly use.
Reusable
Strong water absorption, easy to wash, no deformation after repeated kneading, can be used over and over again, a practical and economical cleaning aid for every household.
Multi-purpose Cleaning
can be used to clean window grooves, glass, kitchen utensils, floor, desk, etc. A glove satisfied with multi cleaning jobs.
Specifications:
Material: Bamboo fiber, non-woven
Package Dimensions (L x W x H): 23 × 20 × 2CM
Package Contents: Household Cleaning Duster Gloves × 10pcs