an adjustable baseboard cleaner, allows you to achieve restoring your baseboards to their freshly painted, like-new look with little effort!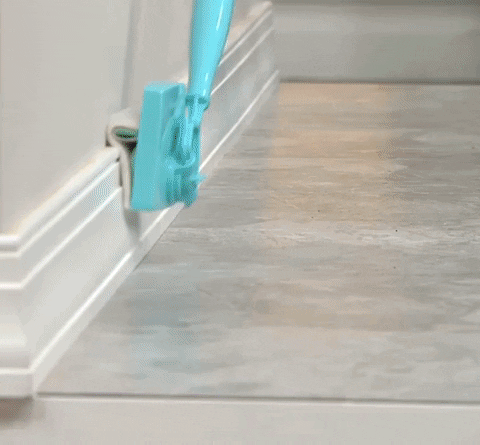 FEATURE
Very effortless to use: with the 360 degree baseboard cleaner, you simply hold the handle and let the microfibre cleaning pad do the rest, so you no longer have to fear cleaning dusty and dirty baseboards, with a telescopic design that frees your back. The head also has a rotatable telescopic handle which will allow you to clean whether you are high up or low down, all you have to do is hold it and glide along it.
Adapts to any contour, no dead space: the adjustable baseboard cleaner's microfibre pad adapts to any shape of baseboard or unique contour, guaranteeing a thorough cleaning of every nook and cranny.
Easy to store: the space-saving design of your adjustable baseboard cleaner makes it easy to store in any wardrobe or cabinet, or on any hook, without taking up your storage space. Wet or dry, it's a must for household cleaning!
SPECIFICATION
Material : Aluminium + Plastic + Microfibre pad
Tube diameter: 2cm/0.79IN
Brush : 11*8*1.5CM/4.33*3.15*0.59IN
PACKAGE INCLUDES: Mop + 2 sponges/4 sponges/6 sponges